Bridgemate.com website redesign

November 5th, 2013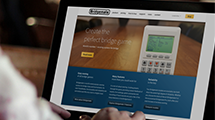 Welcome to the new bridgemate.com website
If you're a regular, or even occasional, visitor to the site, you have probably noticed that something looks different today. In fact, a whole new website has been created — for the better. All the information about the Bridgemate scoring systems are all still here, but they're presented in a fresh, streamlined design, making everything easier to find and enjoy, whether you're accessing the site from a desktop computer, laptop, tablet or smart phone.
Global and local Bridgemate websites
One of the improvements of the new website will be the local Bridgemate websites. Local Bridgemate websites (e.g. www.bridgemate.co.uk) will share the same design and structure as the global bridgemate.com website, which makes it easier for the visitor to navigate through the site. Local websites target the local bridge community and will bring relevant Bridgemate information in the local language. The local sites are currently under construction and will be brought to you soon!
Bridgemate Support Center
To support existing Bridgemate users in the best possible way a complete new support center has been started. The support center contains many articles with information about the various Bridgemate systems, installation guides, download links as well as troubleshooting guides. The support center will be expanded gradually over time and articles will be published in different languages as much as possible. The direct link to the support center is support.bridgemate.com.
We hope you will enjoy the new Bridgemate website. We appreciate you visiting this website and please do no not hesitate to give us your feedback.